Maíz Morado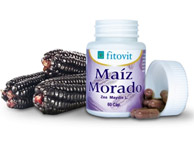 Description:
Purple Corn contains anthocyanins, a powerful natural antioxidant it also helps regulate blood pressure in the process of cardiovascular diseases while retarding cellular aging.
Improves circulation, and helps to alleviate numbness and cramps in the extremities. It also reduces blood coagulation in the veins and arteries thus helping against varicose veins.
Attention:
Consult with a knowledgeable physician during period of pregnancy.
Recomended dose:
Adults: 1 -3 capsules after eating.
Buy Now: 29.95