Uña de Gato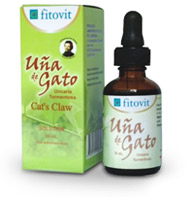 Description:
This formula has an IMMUNOSTIMULANT activity, and reinforces the immune system, helps avoid viral contamination, it is an effective analgesic in rheumatoid arthritis processes (arthritis and arthrosis).
Attention:
Do not use during pregnancy or while lactating, post-operative in an organ transplant.
Recomended dose:
Adults & Children older than 12 years of age: 20 drops 3 times per day. Children younger than 12 years of age consult with your physician.
Buy Now: 29.95