Lucra Fit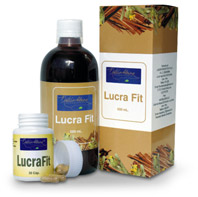 Description:
LUCRA FIT is excellent for the treatment of prostatic inflammations, to help control and alleviate Prostatitis (Prostate Inflammation,) it is considered an anti-inflammatory and a menstrual cycle regulator.
Ingredients:
Achiote, Alcachofa (Artichoke), Uña de gato (Cat´s Claw), Lucraco, Stevia
Attention:
Do not use in periods of pregnancy nor while lactating.
Recomended dose:
Adults and children over 12: Take one teaspoonful twice daily after meals.
Children younger than 12 years of age: Consult with your physician.
Buy Now: 29.95