Kaló Noni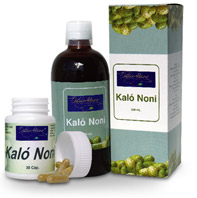 Description:
KALO NONI Used in the treatment of Diabetes, it helps reduce levels of glucose in the blood, along with those of cholesterol and triglycerides. It has anti-cancerous properties thus helping neutralize the progress of certain neoplasm in early stages of the disease, along with its effects on aging and tumoral conditions.
Attention:
Do not use in periods of pregnancy nor while lactating.
Recomended dose:
Adults: 1 - 2 Capsules daily after eating or follow physican´s instructions.
Liquid extract:
Adults and children over 12: Take one teaspoonful twice daily after meals.
Children younger than 12 years of age: Consult with your physician.
Buy Now: 29.95