Camu Vit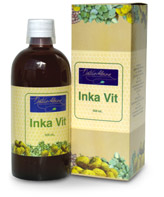 Description:
INKA VIT increases physical, mental and emotional sharpening and concentration and the Cellular defence mechanisms. It also helps in the process of controlling Anemia, due to its content of starches, Proteins, Minerals, especially Iron. It helps reduce rickets providing calories thus making it an excellent Cellular Reconstituent. It provides stamina and strength. Facilitates a stable nervous system and also provides a better visual acuity and a fetal cerebral development.
Attention:
None reported.
Recomended dose:
Adults and children over 12: Take one teaspoonful twice daily after meals.
Children younger than 12 years of age: Consult with your physician.
Buy Now: 29.95