Camu Extract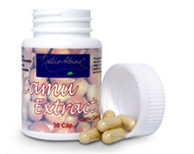 Description:
CAMU EXTRACT, is a powerful anti-oxidant, It contains 63% more Ascorbic Acid than a lemon, it favours the formation of Collagen and helps in the formation and health of Bones, Teeth, Gums, Cells and Skin. It also helps in the process of absorption of Iron from foods consumed and it combats scurvy along with helping in the process of weight loss. Due to its high concentration of Ascorbic Acid it helps in the prevention of Bronchial Infections.
Attention:
None reported.
Recomended dose:
Adults and children over 12: Take one teaspoonful twice daily after meals.
Children younger than 12 years of age: Consult with your physician.
Buy Now: 29.95