Inka Vitale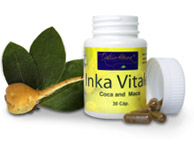 Description:
INKA VITALE is a Reconstituent and Energizer. It regulates your metabolism and the carbohydrates that your body needs, increases physical stamina in adults, and the mental and physical performance in children, sportsmen and older citizens.
Attention:
Do not use during pregnancy or while lactating.
Ingredients:
Coca and Maca
Recomended dose:
1 - 2 Capsules daily after food or follow your physician's instructions.
Buy Now: 29.95