Graviola Only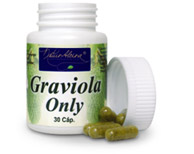 Description:
GRAVIOLA has Anti-cancerous or Citostatics activity destroying cancerous cells without harming healthy cells.
Graviola provides a natural chemotherapy and it is a most in cancerous affections. It has an anti-tumoral, antiviral, anti-parasitic, anti-rheumatic, astringent, emetic, anti-leishmanial and cytotoxic effects.
Attention:
Do not use during pregnancy or while lactating.
Recomended dose:
Adults: 1 - 2 Capsules daily after meals.
Buy Now: 29.95