Yacón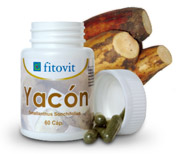 Description:
Yacón is a plant that has hipoglycemic properties, it helps lower sugar levels in the blood thorough its continual use, it is ideal for people with diabetes.
It is excellent for calorie restriction diets for reduction of cholesterol and triglycerides.
Attention:
None reported.
Recomended dose:
Adults: 1-2 capsules after meals or as directed by your doctor.
Buy Now: 29.95