« Back to Articles
American Health
The self-care industry id really boorning. Now there's even FDA-approved, do-it-yourself cryotherapy for hemorrhoid relief.
Though is sounds hightech, the mail-order at home version is actually rather simple: Anurex, as it's called, is a coolant-filed plastic probe that you pop in the freezer for an hour, lubricate, then insert rectally for six to wight minutes. The pinky-finger-sized device delivers numbing cold relief.
Besides acting as a natural anesthetic, they ice probe shunts blood away from the piles (varicose venis), reducing swelling.
eople who've tried Anurex say the twice-a-day deep-freezer treatment takes some getting used to. But the quick relief, they say, is very persuasive.
Dr. William Rudd, a Toronto colon and rectal surgeon, was skeptical at first. But in studies with 220 of his patients, 95% said the device was effective in relieving symptoms.
Dr, Jose Velasco, a hemorrhoid expert at Weiss Memorial Hospital in Chicago, says Anurex could also be a help to patients who undergo rubber-band therapy.
To order, write: Anurex Relief Labs, 12555 Biscayne Blvd, Suite 970, Miami, FL 33181. Cost: $29.95. Each probe is reusable for about six months, according to the manufacturer. -H.W"
« Back to Articles
American Health - Jun 1988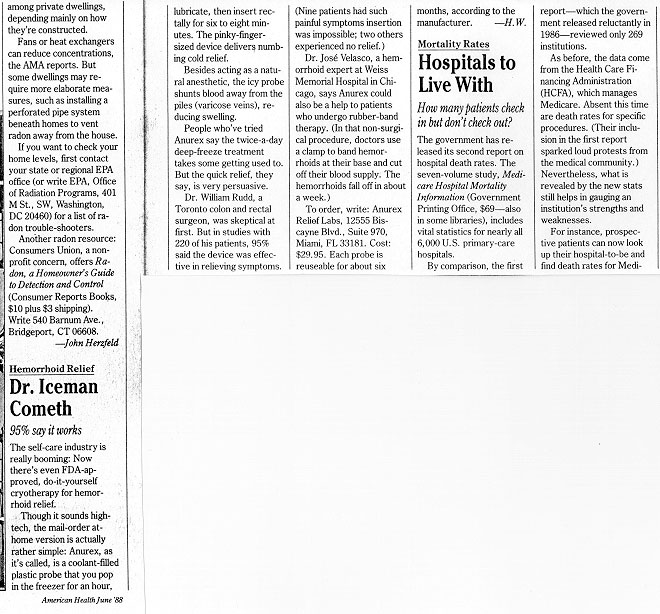 « Back to Articles