« Back to Articles
Woman's World
If you suffer from embarrassing anal itching and hemorrhoid treatments don't bring relief, you're not alone. New research reveals as many as 34 percent of people undergoing hemorrhoid treatment actually have a condition called anusitis, says William W. Rudd, M.D., of the Rudd Clinic for Colon and Rectal Surgery in Toronto.
Unlike hemorrhoids, which are varicose venis inside the rectum or around te opening of the anus, anusitis is an inflammation caused by irritation to the tissued in the 1,5-inch-long canal that connects the anus and the large intestine. The inflammation makes the skin in that area crack, triggering itching and pain. Many patients also notice bright-red blood in their stool ant that's where the confusion sets in."The bleeding is seen as a sign of hemorrhoids," Dr. Rudd says. "But anusitis actually causes rectal bleeding more often than anything else."
The good news: anusitis can be relieved instantly at home with Anurex, an over-the-coutner cooling suppository that is stored in the freezer before use. The cold causes engorged blood vessels to constrict, soothing inflammation, swelling, pain and bleeding. According to a recent study involving 265 people, Anurex is more than 90 percent effective. And to keep problems for recurrind, Dr. Rudd suggests:
*Limiting coffee consumption to two or three cups daily. Many anusitis sufferers have their problem because they overload on coffee - sometimes drinking 15 or more cups a day. It doesn't help to switch to decaf, Dr. Rudd says. And other beverages may also provoke a reaction, including cola and beer.
*Avoiding spicy foods. The top no-nos: hot peppers, onions, tomato sauces and curry.
*Using medicated pads, like Tucks, to soothe sensitive tissues. Dust with corn starch afterward to keep the area free of moisture.
*Talking time to de-stress every day to help prevent constipation, another anal-canal irritant. "

« Back to Articles
Woman's World - Feb 10, 1998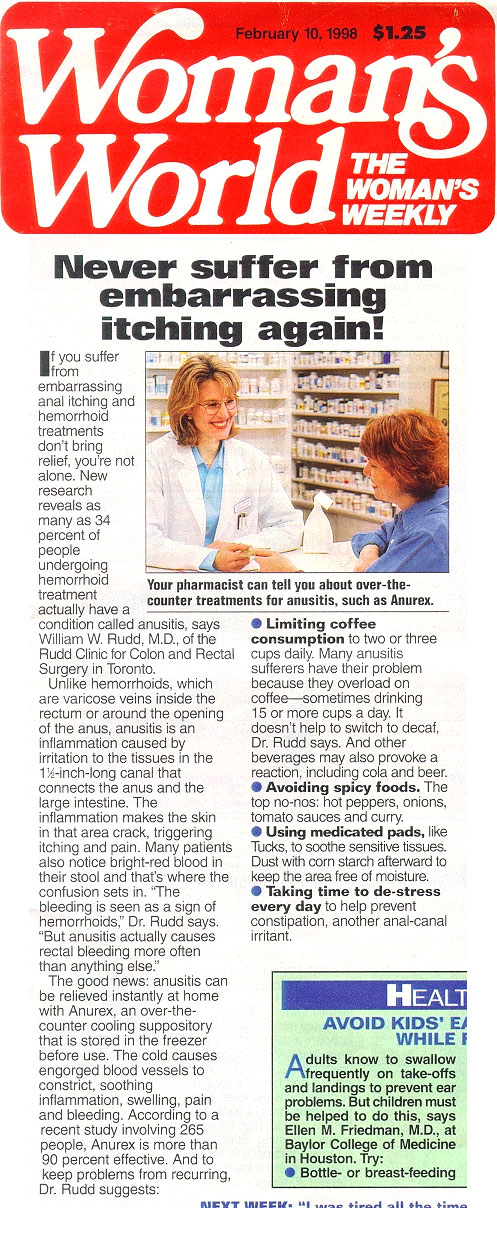 « Back to Articles